This week's BookSnap is really just an excuse to feature my new paperblank journal. For many years I just used ordinary exercise books or notebooks as journals, I would tart them up a bit with adding covers of either fabric or decorative paper but they were still cheap notebooks. Then a few years ago I got my first paperblank I have absolutely fallen in love with these journals. I am by nature a frugal person and paperblanks always seemed like such an extravagance and they are an extravagance but I do love them and everything about them is quality from the heavy paper to the gorgeous covers. It is the covers that I fell in love with, mostly choosing from the embellished manuscript collection. This cover reproduces Andrew Lang's Victorian classic The Olive Fairy Book, you can read the book for free here at Project Gutenberg. The Gutenberg site also reproduces the original art work of the book.
The other book featured in the image is Arthur Conan Doyle's The coming of the Fairies. Doyle's account of the Cottingley Fairies, one of the most famous hoaxes ever perpetrated, when two young girls claimed to have taken photos of real life fairies. Doyle most famous as the creator of Sherlock Holmes, was a complex and complicated man with an essentially romantic outlook. I was always intrigued by the fact that this man of science and logic, who created a literary figure who was the epitome of logic could also believe in fairies at the bottom of the garden and believe he did.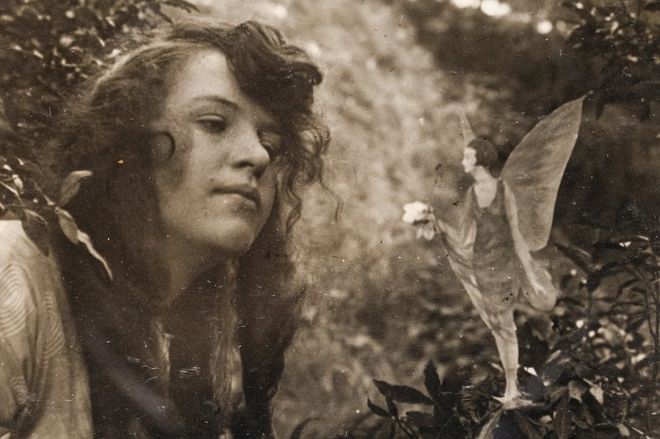 The delightful movie Fairy Tale was based on the story of Doyle and the Cottingley Fairies and I can highly recommend it, I plan on curling up this afternoon and again watching it and escaping back into a time of innocence, magic and mystery set against the stark counter weight of the first world war.
Oh and the other items in the image are simply some elder flowers from a shrub in my yard and hidden behind a little bottle of Cottingley fairy elder flower gin, which I picked up in a market in York about a year ago, it has sat unopened on a book shelf for a year, more a souvenir than a spirit to be consumed but perhaps now is the time.